Los Angeles – Attic Fans
The installation of an attic fan in your home or business can enhance the interior air environment significantly. As you probably already know, hot air has a tendency to rise. Therefore, the heat from long, hot summer days rises to the attic. Unless you find a way to transfer that heat to the exterior of the building, the attic can reach well over 100 degrees on the hottest days of the year. If you have a walk in attic, this creates a dangerous situation that can be life threatening.
The Benefits of Installing Attic Fans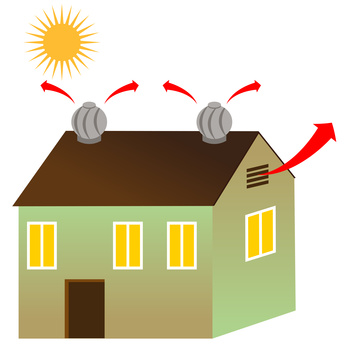 • Increases ventilation throughout the entire building
• Helps to regulate the level of heat within the building
• Lowers the heat level in the attic as it draws cooler air from the building up and through its interior
What to Expect with Your Attic Fan Installation
Most attic fans are controlled by a thermostat. Once the temperature in the attic reaches the predetermined "hot spot" or temperature setting, the attic fan turns on. It circulates the air in the attic by drawing the closest air to the outside of the building. As this air exits the attic, a new supply of heated air rushes in and the cycle continues. This is an effective way to cool off the air in the attic, while enabling hot air from within the building to rise up into the attic as fresher air enters from opened windows.
Attic Fan Installation Services
Our licensed and highly skilled electricians will configure the installation of your attic fan to include the following:
• The integration of a thermostat to control the on-and-off cycle for thermostat-controlled models
• The integration of a manual switch for attic fan models that are not controlled by thermostat
• Hook up to an existing electrical circuit
Our trained electricians can also replace existing attic fans that are no longer working with newer models. It is a good idea to check periodically to see if your existing attic fan is functioning properly. In many cases, you can hear a small humming sound when they are running. However, the sound of a silent attic fan does not necessarily mean that it isn't working since they only run when the predetermined temperature is reached or you flip the manual switch.
Attic Fan Models
Offering standard sizes that are relatively small, there are two basic types of electrical attic fans that are commonly available:
• thermostat-controlled models
• manual control attic fans