Are you ready to put the incessant humming of your fluorescent lighting to rest? Wouldn't it be nice to get rid of the annoying hum of older ballasts? With our ballast and bulb replacement service, you can obtain quiet replacements that perform with the proficiency of modern technology. Newer versions provide a higher level of energy efficiency that cuts your overhead costs while also bringing you a quiet source of lighting.
If your commercial building (hospital, school, warehouse, store, etc.) was built prior to 1988 and you haven't had your lighting fixtures upgraded, it is possible that you are still using the older magnetic-style of fluorescent ballast that emits PCBs. Not only do these outdated styles pose a health risk to you, but they also create a fire hazard. They aren't designed for longevity and you should bring in a professional electrician to replace them as soon as possible.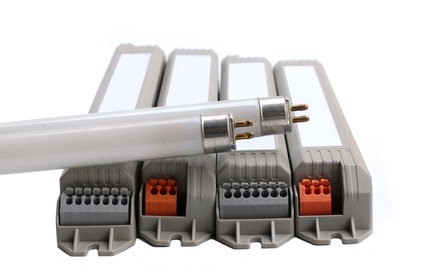 After 1988, all new construction has been required to use newer styles of ballasts that consume less energy than their predecessors. They also feature a longer lifespan and cooler operation. How much more energy efficient newer styles of ballasts are depends on which one your commercial building was fitted with at the time the lighting system was installed. Magnetic ballasts created after 1988 tend to consume energy even when they aren't currently turned on with a lamp in place. This makes them less desirable than the more advanced electronic ballasts that are now available
The electronic ballasts use much less power and operate at a higher frequency. The electronic versions function at cooler temperatures, emitting less heat than earlier magnetic styles. This provides a longer lifespan for the lamp and energy savings as well.
Technology has also led to the creation of hybrid ballasts, which operate through a combination of electromagnetic technology coupled with electronic components. One of the benefits of using a hybrid is that it offers approximately 25 years of functionality.
If you aren't sure which type of ballast your building is currently using, just give us a call. We'll be glad to come check it out for you, offer a recommendation for replacements, and make the switchover for your company, business, or school. Retrofitting your lighting system with newer styles of ballasts and bulbs can reduce your overall maintenance costs.
OCA Electrical specializes in all sorts of commercial services (along with residential and industrial electrical work). Please call us today to refit your school or business with new ballast and bulb replacements.