Electrical inspections are an important part of providing a safe, secure environment for the people who work, study, or visit your place of business. While you should have your facility inspected at the time that you originally make your purchase of a new or existing structure, it is just as important to arrange for an electrical inspection each year to check up on your equipment to ensure that it is still functioning properly. OCA Electrical provides inspections for apartment complexes, schools, hospitals, hotels, resorts, office buildings, warehouses, retail stores, motels, restaurants, auto dealerships, and manufacturing facilities.
An electrical inspection performed by a licensed electrician can identify problematic issues before they get out of hand, leading to expensive repairs. It is in your best interest to identify those problems before they become a safety hazard that places your employees and visitors at risk.
OCA Electrical Searches for the Following Concerns During an Electrical Inspection
At the time that your facility undergoes a thorough examination of its electrical system and equipment, our licensed technicians look at each of the following aspects:
The size of your electrical service
Your current electrical loads
Grounding issues
Electrical service panels
GFCI protection
Our professional electricians will examine your facility's electrical system to determine its capability of handling all of your current loads as well as those that might occur in the near future. They will look for signs of outdated, faulty, or unsafe equipment and devices. Not only will our licensed electricians provide you with a list of necessary repairs, but they will also make suggestions on how to lower your facility's energy consumption.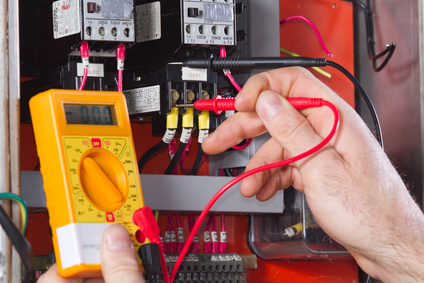 Each inspection is completed with a thoroughness that ensures the safety of your equipment. Each aspect is also examined to determine whether or not it meets current NEC codes. If any repairs are warranted, our electricians might be able to make them at the time of inspection. If this is not possible, they can arrange with you to come back at a time that is convenient for you.
Please contact OCA Electrical for your safety inspection today. Our commercial electricians have the skills and knowledge to perform a comprehensive examination of your complete electrical system. Here at OCA Electrical, we also provide an inclusive assortment of installations, repairs, retrofits, and replacements for all of your commercial electrical needs.