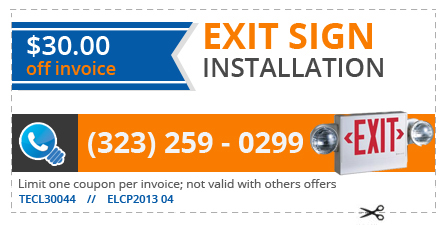 Install Legally Compliant Exit Signs To Ensure Safe and Swift Building Evacuation

Emergency exit signs are vital details to a wide variety of properties such as commercial, industrial, religious and educational buildings but they hardly get attention except in case of an emergency. When they work well, they help building occupants determine a safe and speedy escape from a building with minimum confusion and panic. Here are a few tips to help you in their selection and placement.
Exit Sign Considerations

There are several local, state and federal codes and regulations that govern exit sign requirements including those provided by OSHA which sets standards to ensure safe evacuation of employees in case of an emergency. These standards relate to display of signs and guidelines for easy evacuation. For example, the letters of emergency exit signs must be legible and visible at all times. They must be free of decoration and illuminated by a reliable light source. In addition to this, arrangements must be made to ensure proper illumination in case of power outage.
Myriad Choices

Emergency exit signs are available in a wide variety of styles, designs and finishes. Options include signs with LED lighting, signs with traditional incandescent or fluorescent lighting, signs with built in lighting and outdoor signs with wet location ratings. Customers can choose from designs that can be ceiling mounted, wall mounted and end mounted. Your choice should depend on several factors including price, application, aesthetic appeal, construction, lifespan, installation method and maintenance requirements to name a few. These systems can be hardwired to a building's electricity supply in an effective and efficient manner by a licensed and skilled Los Angeles electrician.
LED Exit Sign Systems

The emergence of LED lighting technology heralds a new era in the design and efficiency of emergency exit signs. LED based emergency exit signs are popular because of their low energy consumption that can be as less as 5 watts, longer lifespan of up to ten years and affordable prices. Most of them come with battery backup that allows them to remain illuminated in case of power outage. They can be incorporated in many elegant and efficient exit sign designs ranging from nouveau acrylic panels and durable aluminum panels to stylish and robust steel panels designed for the harshest environments.
Outdoor Exit Sign Solutions

Commercial grade emergency exit signs with wet location ratings function efficiently on building exteriors. They mostly come with fiberglass housing built to withstand harsh environment elements such as sleet, snow and dust that might interfere with the proper functioning of an exit sign. They can be equipped with an internal heater to ensure optimal functioning in cold weather conditions.
It is important to be aware of local codes before choosing and installing an exit sign. With their industry experience and in depth knowledge, licensed Los Angeles electricians can help you make the right choice for your application. They are up to date with the latest building codes for installation and wiring, making them best suited for the task of safe and legally compliant installation.
Previous Post
Keep Your Building Cool and Reduce Energy Bills with Attic Fan Solutions
Next Post
Top Tips to Ensure Electrical Safety on Commercial and Business Properties