LED Parking Lot Lighting Systems
Using less energy than traditional lighting systems (high pressure sodium and metal halide lighting), LED systems are more efficient and less costly to run. Outdoor lighting is essential in today's world, particularly in parking areas.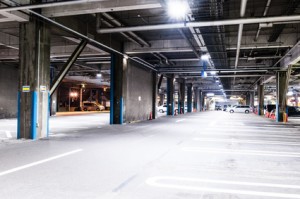 The Benefits of ChoosingLED Styles of Parking Lot Lighting Systems
While the fact that LED lights are less expensive to use is important, there are several other benefits attached to this choice in parking lot lighting. LEDs waste less energy than other options, making them the environmentally friendly choice to use. As a direct result of less waste, your company realizes cost savings in the operation of your lighting system. This is money that can be spent to upgrade lighting elsewhere in your plant or facility.
LED lights are relatively inexpensive to maintain due to their longevity, reliability, and durability. They hold up well in all types of climates and weather variations. Since they hold up so well, replacement is less frequent. Offering an even source of lighting, LED lights are also attractive.
Styles of Outdoor LED Lighting Fixtures for Parking Areas
Whether you are replacing your existing parking lot lighting system or obtaining one for the first time, you have several choices in the design of your fixture. These options include teardrop, shoebox, decorative pole tops, Cobra Head light, and floodlight designs. In many cases, OCA Electrical can adapt your existing pole styles to fit modern LED lighting designs.
Two of the most popular choices include the shoebox and the cobra head designs. Shoebox fixtures are quite similar to traditional outdoor lighting fixtures, so they are the perfect choice for business owners who want to retrofit their existing parking lot fixtures.  Cobra fixtures are sold in a wide variation of wattages, making them an ideal choice for parking lots that feature different heights in their lighting poles.
Features of Outdoor LED Lighting Fixtures for Parking Areas
Due to the specifications that must be met for parking lot lighting (quality, brightness, durability, dark sky compliance, and pole length), a number of features have been incorporated into most LED outdoor fixtures intended for parking. They include:
Durable finishes
Rugged construction
High performance optics
Compliance with IES standards
Varied distribution types
Varied wattages/lumen outputs