Emergency Exit Sign Installation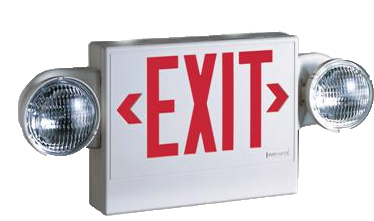 Many local, state, and federal building codes require the installation of emergency exit signs and lighting fixtures in order to provide optimal building safety. Designed to provide the quick exit of the building's occupants during an emergency, this type of signage should be strategically placed at all exits of the building, as well as within the interior corridors. As your hired electricians, we are prepared to assist you in getting your building up to code, while keeping within your budget.
Emergency Exit Sign Installation Should be Completed by a Licensed Electrician
The installation of compliant signage for emergency exits is an important aspect of any brick-and-mortar business, school, church, or public building. Since this style of lighting must be hard-wired to your electrical supply, it is important to hire an experienced electrician to complete the work.
Many of today's styles of emergency exit signs can be ceiling mounted, back mounted, or end mounted, depending on the customer's preference and the model of sign that has been purchased.
It is important to ensure that the model you choose to install complies with the building codes in your location. As licensed electricians, we have access to this information and can assist you with your decision-making process regarding the style of emergency exit signs and lighting. As licensed electricians, we also follows current building codes for installation and wiring, ensuring the safety of your building and its occupants.
Three options for this style of emergency lighting/signage are available including exit signs, emergency lights, and a combination model that features both an exit sign along with emergency lights. Typically, more than one style of sign/lighting fixture is needed.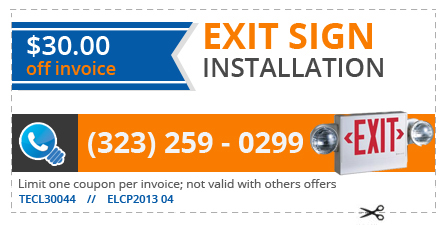 As your electricians, we can handle all of the details for you, figuring out just how many signs you will need to install, as well as determining which styles should be installed. Please ask any questions that you have. If we don't have the answer for you, we will get it. It's important to address this particular aspect of lighting for your building, since it ensures the safety of your employees and visitors.
Types of Emergency Exit Signs
Commercial-grade signage and lighting fixtures should be used for the exterior of buildings since they hold up well during all types of weather conditions.
An LED, light emitting diode, exit sign is an affordable option that saves on the use of electricity. They can last up to 10 years and use less than 5 watts of electricity.
Emergency Exit Sign Safety Tips
It is important to follow the safety precautions featured with the specific emergency-exit sign that is installed at your place of business. In particular, the battery for many of these units need to fully charge for a specific number of hours prior to turning the emergency exit lighting on. It is also important to use only those lamps specified when replacing them to prevent overheating and damage to the transformer or other parts of the exit sign.
The maintenance required to care for emergency exit signs is minimal. In general, the signs should be kept clean and in good repair. If any problems arise, it is important to contact an experienced electrician to assess and repair the damage.
OCA Electrical is proudly serving in Los Angeles county cities listed below:
| | | | | | |
| --- | --- | --- | --- | --- | --- |
| Agoura Hills, CA | Alhambra, CA | ‎Arcadia, CA | Artesia, CA | Avalon, CA | Azusa, CA |
| Baldwin, CA | Bell, CA | Bell Gardens, CA | Bellflower, CA | Beverly Hills, CA | Bradbury, CA |
| Burbank, CA | Calabasas, CA | Carson, CA | Cerritos, CA | Claremont, CA | Commerce, CA |
| Compton, CA | Covina, CA | Cudahy, CA | Culver City, CA | Diamond Bar, CA | Downey, CA |
| Duarte, CA | El Monte, CA | El Segundo, CA | Gardena, CA | Glendale, CA | Glendora, CA |
| Hawaiian Gardens, CA | Hawthorne, CA | Hermosa Beach, CA | Hidden Hills, CA | Huntington Park, CA | Industry, CA |
| Inglewood, CA | Irwindale, CA | La Cañada Flintridge, CA | La Habra Heights, CA | La Mirada, CA | La Puente, CA |
| La Verne, CA | Lakewood, CA | Lancaster, CA | Lawndale, CA | Lomita, CA | Long Beach, CA |
| Los Angeles, CA | Lynwood, CA | Malibu, CA | Manhattan Beach, CA | Maywood, CA | Monrovia, CA |
| Montebello, CA | Monterey Park, CA | Norwalk, CA | Palmdale, CA | Paramount, CA | Pasadena, CA |
| Pico Rivera, CA | Pomona, CA | Rancho Palos Verdes, CA | Redondo Beach, CA | Rolling Hills, CA | Rosemead, CA |
| San Dimas, CA | Sierra Madre, CA | South El Monte, CA | South Pasadena, CA | San Fernando Valley, CA | San Gabriel, CA |
| San Marino, CA | Santa Clarita, CA | Santa Fe Springs, CA | Santa Monica, CA | Signal Hill, CA | South Gate, CA |
| Temple City, CA | Torrance, CA | | | | |