Home Entertainment installation and troubleshooting
Your home entertainment system is more than a collection of devices and low voltage wiring. It's the opportunity to experience quality video, audio, and data communication at peak performance. Whether you are designing dedicated systems for a single room or planning something on a grander scale that includes a number of multi-purpose living areas, a qualified electrician can create a system that fits your lifestyle and your living space, while giving you exactly what you want.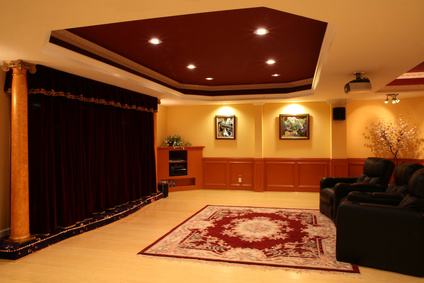 Considerations for Home Entertainment Installations
Homes are built in a wide assortment of styles, creating the need to design home entertainment installations on a case-by-case basis in order to provide a system that not only looks good but also sounds great! Our experienced electricians have the expertise to fit your system in seamlessly with your existing furnishings without sacrificing the kind of performance and comfort that you want.
Home Entertainment Room Design
While a home entertainment or media room is quite similar to a home theater, the truth is that this type of room offers a wider variety of entertainment opportunities. Therefore, the installation necessitates the inclusion of a wider variety of structured cabling to meet the needs of gaming, TV viewing, Internet capability, music, and video. A professional electrician can ensure the compatibility of the equipment that is installed in order to provide optimal performance of each piece at all times.
Due to the greater abundance of furniture in a home entertainment/media room, the use of in-wall designs is emphasized over free standing pieces of electronic equipment. For example, retractable screens and concealed audio equipment (speakers) can save space, while still providing quality performance.
It is important for you to draw up your plans in order to get a good idea of the limitations of the room regarding size and placement. Your electrician can suggest the best layout for your equipment, but the final decision is up to you. Of course, OCA Electrical handles the purchase and layout of all structured cabling and electrical wiring for your home entertainment project.
Please contact us today if you have any questions or would like to set up an appointment.